DATE:

AUTHOR:

The Correlated team
Self-Serve CDW Onboarding 🌩, DIY Salesforce Fields 🪄, Powerful Account & User Lists 📈
DATE:
AUTHOR: The Correlated team
It's been a busy quarter so far, and we're back with another exciting product release! This time, we're focused on revamping our existing Correlated features to give you a seamless user experience - like a complete overhaul of our Cloud Data Warehouse onboarding, self-serve functionality for adding Salesforce fields, and a new way to draw powerful insights from Account and User Lists!
Self-Serve Cloud Data Warehouse Onboarding
Our mission of enabling companies to expand revenue and convert leads in the most effective way possible (through PLG) relies on analyzing customer data to discover product qualified leads (PQLs). It is critical for us to make it easy for data teams to expose data to GTM teams in the form of actionable insights.
That's why we completely revamped our data warehouse onboarding, allowing data teams to easily connect data warehouses, configure tables, preview data, and import data with a few clicks. We are compatible with all your favorites - BigQuery, Snowflake, and Redshift - so now your data team can focus on building the initial models to support a PLG motion, and your GTM team can easily surface what they need in Correlated, when they need it.
Add the tables or dimensions you need to identify product-led opportunities in just seconds, and easily keep up with your product and strategies as they evolve. The days of being blocked by the tedious back-and-forth between business and data teams are long gone!
To learn more about how you can give your GTM team the power of data without the complexities, check out our blog post.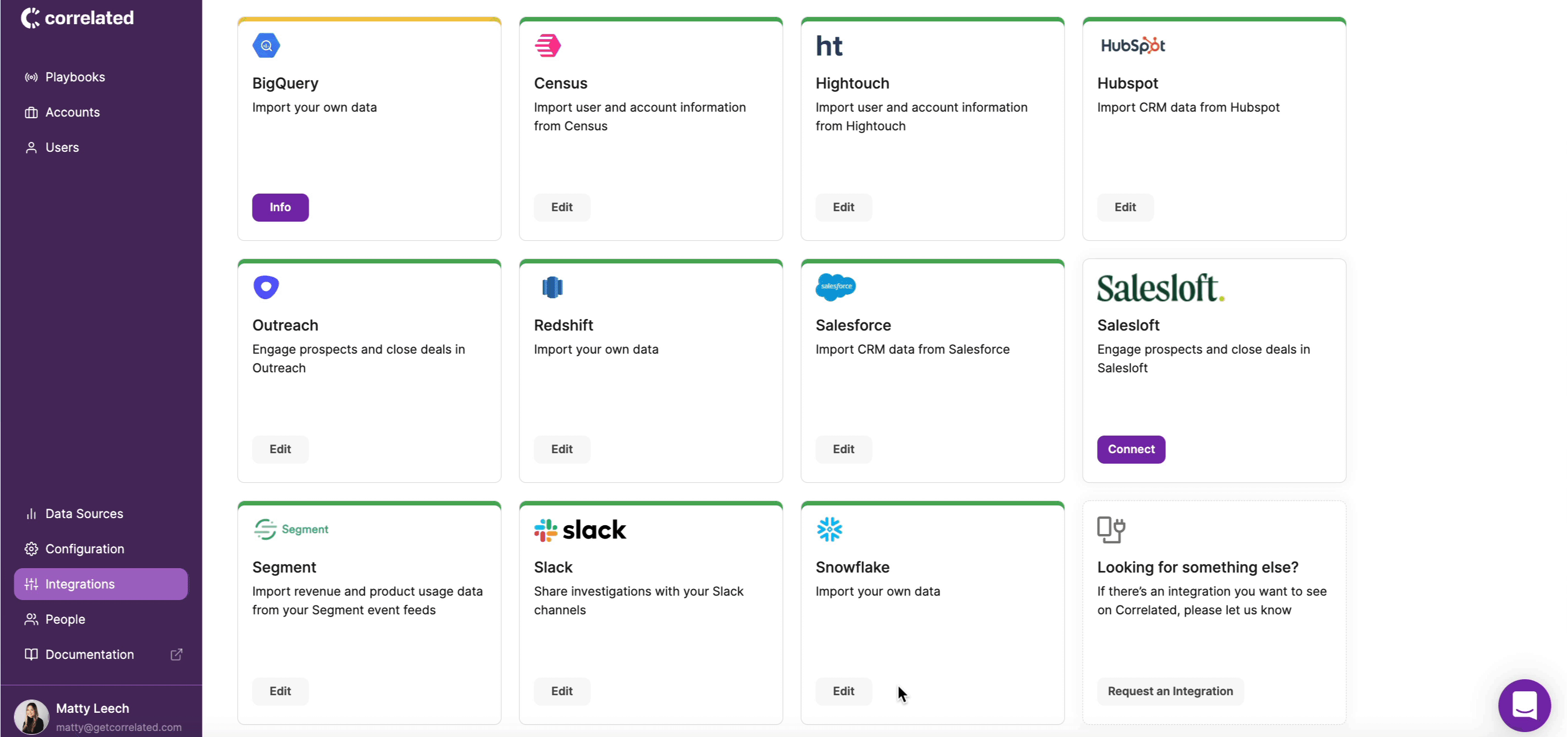 Adding Salesforce Fields as Dimensions
Although we love to help our customers out whenever possible, our ultimate goal is to curate a flawless self-serve experience for any user of Correlated. The newest improvement here is for our Salesforce lovers!
If you use Salesforce to store important firmographic, demographic, and other key customer data that is vital to discovering PQLs, you can now quickly add those fields as "dimensions" in Correlated with the click of a button. Once you've added new SFDC fields, you can instantly access them to build out your PLG Playbooks, add them as "Trigger Details" in a Slack notification to your team, or use them to deep-dive into your account/user lists.
Usage Metrics Available in Account & User Lists
If you're in a sales role like an AE, SDR, or BDR, chances are you spend a lot of your day learning more about who your prospects are and what they're doing. If we had to guess, you might even be spending too much time digging for information. To make surfacing this customer data all in one place easier than ever before, we made product-usage metrics available in Correlated's Account and User Lists!
Now, you can craft customized views for the leads you care about by flexibly combining key product-usage metrics with other important data, like firmographic dimensions. As always, save your perfectly composed lists to quickly access them later on, whenever you need to see what your book of business is up to.
If you have questions about using any of these new releases, contact us at support@getcorrelated.com.